Massey Ferguson Tractors for sale in Botswana
Massey Ferguson Tractors for sale in Botswana
---
Model / Type: Massey Ferguson MF 240 2WD Horse Power: 50hp Transmission: Manual Engine: 2.5D Colour: Red Condition: Brand New

Read more
FARM TRACTORS
Why Massey Ferguson Tractors ?
We are responsible for bringing about an efficient agriculture system by being a principal and superior agricultural machinery supplier and dealer within Botswana. We are equipped with the latest technology of tools and machinery in order to enhance the agricultural yields manifolds effectively.
Brand New Massey Ferguson Tractors For Sale In Botswana
Our range of farm implements includes Massey Ferguson tractors and agriculture yielding farm machinery within the range of 50hp – 85hp in accommodating prices. Our designs are unique yet innovative catering to our customers' agricultural needs in the most efficient manner.
We possess the dealership of Masse Ferguson within Botswana thereby supplying its' farm equipment throughout Botswana thus we are recognized solely for being responsible for the trading quality agricultural and farming implements particularly tractors and its implements necessitated for the maximum agricultural yield. And particularly in a region like Botswana which mostly is a deserted and landlocked land, Massey Ferguson Botswana is indeed an utmost resolution not only for the irrigation of the crops but also to yield maximum agricultural crops.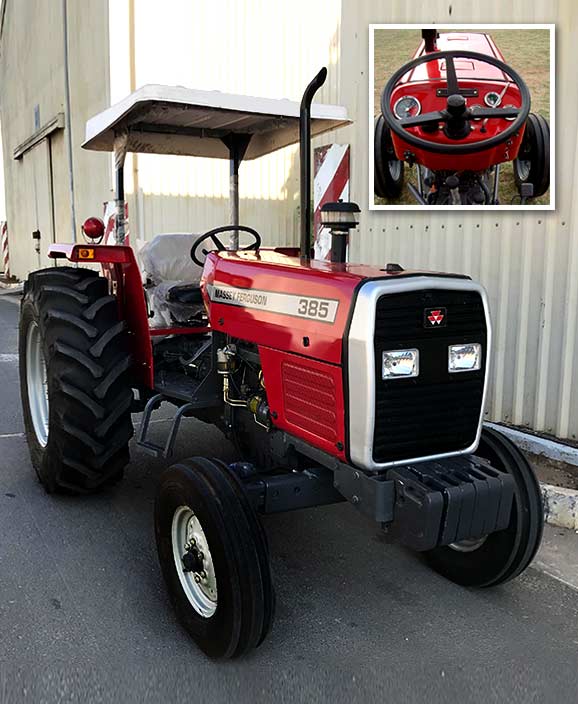 Farm Implements for Sale in Botswana
Farm Implements
---
Bed shape Planter Specification FRAME: 50X50X6M BOX HITCH: 75X36X6MM LENGTH: 1520MM HEIGHT: 2240MM WIDTH: 2240MM APPROX WEIGHT: 470KGS

Read more

Disc Plough Specification Available from 2-5 discs WEIGHT 550 WORKING WIDHTH 990MM WORKING DEPTH 250MM HEIGHT 1235MMh LENGTH 2130MM POWER REQUIRE 85HP ONWARDS

Read more

Specifications Power Dozer to fit MF 240, 350 Plus, 260, 360, 375, 385 tractors Blade Model MT-08/1=6′ * 22″ -(Single ram) Model MT-08/2=6.5′ * 30″ (Twin ram)

Read more

Rear Blade Specification Width: 5' – 12' Length: 5ft with wheel 1/2" Reversible/replaceable cutting edge.

Read more

Specifications No of Cutter 104-128 Height with Wheels 6' Length of Drum 4.5' – 5.5' PTO Speed 540RPM Fuel Consumption 7-7.5l/hr Tractor compatibility 50 HP and above

Read more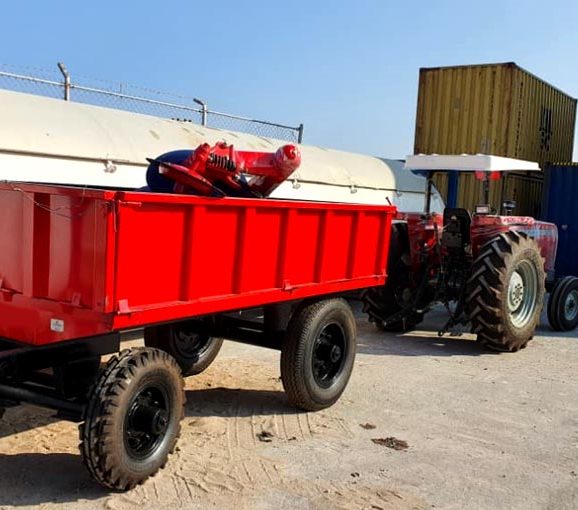 MODERN FARMING TOOLS
Tractor Implements for Sale in Botswana
We offer modernized agricultural instruments implements such as
Tillers, Loaders, Disc ploughs, Tripping trailer, Front blade, Jib crane, Mower jolly, Mould Board plough, Harrow, Hole digger, Ridger, Swinging drawbar, Pintle hook, Rice puddler, Chopper, Planter, Cultivator, Sprayer etc.
to ensure that maximum yield of crops is achieved in minimum time, cost and labour thereby making use of the technology at the right second. We are renowned and trusted by our customers thereby making us globally the market leader. We just don't sell Massey Ferguson tractors and their farm implements rather we purchase loyal customers by delivering quality and retaining trust.
Testimonials
Testimonials
---
I'm very thankful to you guys even though you are so awesome and professional, providing the best farm machinery and agricultural equipment in Botswana at very competitive prices.

Tote Visagie

Creative Heads Inc
Good place for quality farm tractors and agricultural equipment. I was very surprised by the quality of the equipment of this company. I highly recommend Massey Tractors Botswana.

Joel Peter

CTO - C Company
Reputed agricultural machinery dealer in Botswana. The exterior and interior are conducive for work and business. They have parking space and good customer service. Affordable Massey Ferguson tractors in Botswana.

Fazil Osman

Creative Heads Inc